Written on 4/28/2008 08:17:00 PM by Yvette St. John
In honor of the Broadway musical opening on April 25th, I decided to do a review of the 1990 John Waters cult classic - Cry-Baby.

Johnny Depp is Wade "Cry-Baby" Walker, an Elvis inspired character, in a Grease type-ish movie.











Square Allison meets Drape "Cry-Baby" getting the Polio vaccination











The Cry-Baby gang meets up with Wanda's mother leaving school:
"Now remember kids, always look both ways before crossing a street..."











The Cry-Baby Gang: Milton, Hatchet-Face, Cry-Baby, Pepper (Rikki Lake), and Wanda (Traci Lords).











The Whiffles: Baldwin - and the nameless 3 (if they have names I haven't got a clue what they are)











Taking singing in the car to a whole new level (Singing to Gee by the Crows to Allison)











After the gang heads home (to Turkey Point) they come upon Uncle Belvidere (Iggy Pop) taking a bath in a barrel.











During the Talent Show: Baldwin sees Allison as his bride...











But she sees nothing but Cry-Baby.











Cry-Baby goes to the Talent Show to get Allison. It was a long bike ride.











Just One Night of Fun...
"Our bazooms are our weapons...."











The Kiss "Watch. It's easy. You just..open your mouth...and I open mine...and we wiggle our tongues together." (Can JD come teach me??)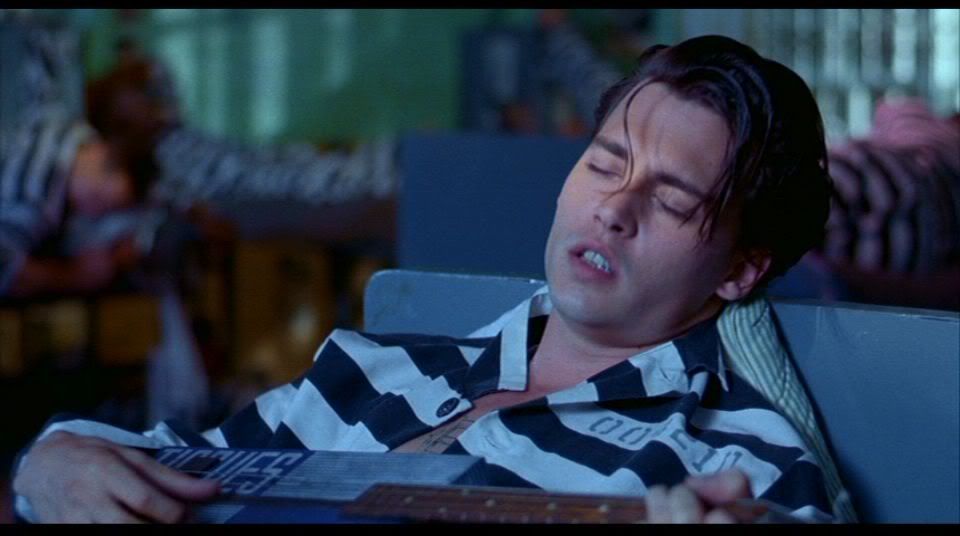 There's mayhem, fighting, court and then...
Playing guitar in juvenile detention on a tissue box











Cry-Baby hears disturbing news on the radio, and starts singing, instigating a "riot." Resulting in getting sprayed with a fire hose.











Attempting an escape Cry-Baby loses his pants....and ends up breaking into the juvie-barber.











Allison comes pleading for them to let her man go. Then: Look! A phone will break the glass!!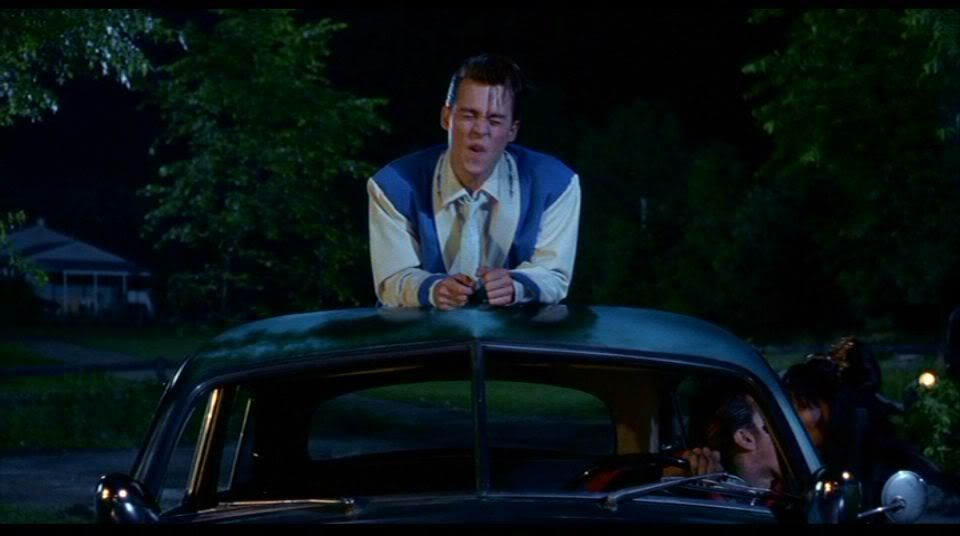 Baldwin (of the Whiffles) makes some nasty comments to Cry-Baby - who then challenges him to a game a chicken. "How 'bout you and me on TOP of the car?!"











...And a happy ending.


Some interesting facts from the movie extras:
Johnny Depp did this movie for a few reasons, John Waters (director) was one of his heroes, he loved the script, and it let him make fun of the image that he'd gotten doing 21 Jumpstreet (he hated that image).

Amy Locane (Allison) was 17 when she made this movie, and said that she'd kissed before, but not tons, so: "Johnny Depp pretty much taught me how to kiss. He was a really good kisser" :P (I'm jealous)

Johnny Depp does not sing in this movie. He lip syncs. And he was worried about the dance sequences: "I just don't dance. I don't get it. It's just not my thing." As the casting director put it "Johnny has two left feet, and is self-conscious of it."

While on set, the FBI came to arrest Traci Lords. Everyone on the set supported her, and said "Okay, where do we hide her." She was mortified by it. So everybody started saying "We've all been arrested....we've all been to jail." Almost every person on that set was arrested for something including: white slavery, grand theft auto, kidnapping, and even murder. JD was arrested for assault in Vancouver and said "I was in the pokey...for a few hours too many ;)"

I freakin' LOVE this movie. I had it for years on VHS, and wore out the tape. Finally bought it again on DVD. Definitely a must-see. Johnny Depp is great in it.
If you enjoyed this post
Subscribe to our feed